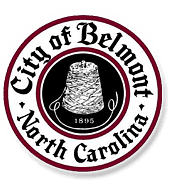 Explore what the City of Belmont has to offer with the links below.
Belmont is a suburban city in Gaston County, NC, located about 15 miles west of uptown Charlotte and 9 miles east of Gastonia
The population was 10,076 at the 2010 Census. Nestled by the natural beauty of rolling hills, lush forests and lakes, Belmont allows visitors to take advanatage of big-city amenites while enjoying the unique charms of a small city.
Once known as Garabaldi Station, the name change for Belmont is disputed. Some say it was named for a prominent New York banker - August Belmont. Others contend the Pope ordered the abbot of the monastery there to change the name since he would not tolerate an abbey in a place that bore the Garibaldi name. The abbot could see Crowder's mountain from the property and named the town Belmont - "beautiful mountain".